International Scouting
---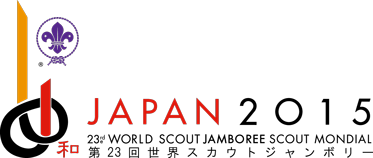 23rd WORLD SCOUT JAMBOREE - REGISTRATION OPEN
In 2015, more than 30,000 Scouts and leaders from 161 countries around the world will converge on Kirara-hama, Yamaguchi, Japan, for the 23rd World Scout Jamboree.

The event will provide opportunities to raise awareness about global issues, explore the environment, participate in community service, make friends from around the world, and deepen understanding of developments in science and technology. The world jamboree is a unique opportunity for participants to experience an exciting program of activities, including: Global Development Village, City of Science, Cross Road of Culture, and the Peace Program.

Participants will live and learn with fellow Scouts from around the world. They will be housed in tents along with the BSA contingent but will soon venture out to mingle with tens of thousands of people for two weeks of activities and adventure. That's right, a world fellowship exercise on an enormous scale!

http://www.scouting.org/worldjamboree.aspx
---

WOSM relaunches web site as a permanent online Jamboree

On October 16, 2013, The World Organization of the Scout Movement (WOSM) redesigned and launched their new website and it is now a
permanent online Jamboree at scout.org. Since the launch, the site has had over 36,000 unique visitors and the numbers are increasing by the minute. Scouts and scouters from all over the world are creating profiles, posting their stories and sharing those of others.

Want tips and suggestions? Wondering about a specific issue? Chances are a fellow Scout knows the answer. Scout.org includes an "Ask"-section, where you can post your question. One example is Hannah Atkinson from the UK who is asking for tips on campfire treats, see her posting here http://scout.org/node/10480.

This is just the beginning. Within the next two weeks a Google translate feature will be added so that you can read all the content on scout.org in your language of choice. You will also be able to follow specific individuals or groups, and be up to date with what they're doing. You can already prepare for this feature today - if you see a post that you find interesting, click on the profile of the person who posted it and select "follow". This way, their posts will automatically be included in a specific news stream for you once this feature is activated. In other words, stay tuned - there is still a lot to look forward to.

You can be part of developing the scout.org universe. If you have any ideas or suggestions, don't hesitate to share them by clicking on the "feedback" button. And above all - don't forget to invite your Scouts friends to join in on the fun on scout.org.

---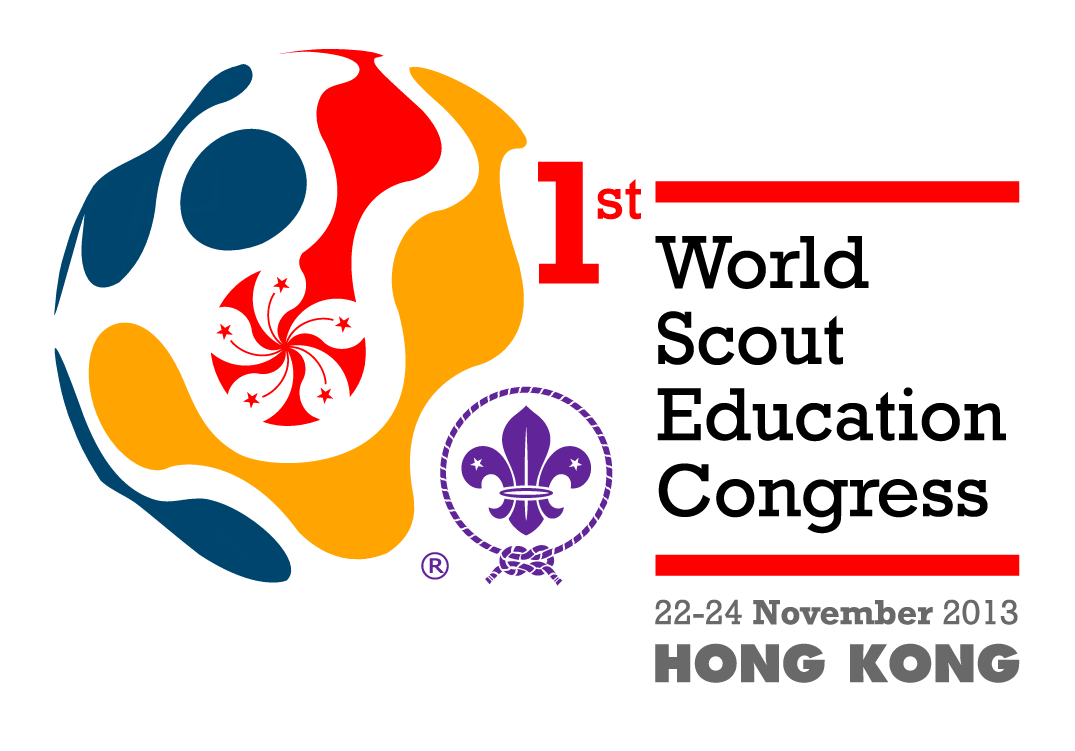 1st WORLD SCOUT EDUCATION CONGRESS HELD IN HONG KONG, NOVEMBER 22 -24, 2013

The 1st World Scout Education Congress brought people together from over 200 countries and territories where Scouting exists. For three days, participants and experts shared, discussed and debated their experiences and expertise in educational aspects of the Scout Movement. This event will help point the way forward, looking at the future for the educational methods of Scouting. Read more about this event at http://www.worldscouteducationcongress.org/en
---
INTRODUCING THE INTERNATIONAL SPIRIT AWARD
The International Spirit Award is a temporary emblem that is awarded to registered Scouts and Scouters who have completed the necessary requirements, have gained a greater knowledge of international Scouting, and have a greater appreciation and awareness of different cultures and countries. This award serves as a replacement for, and therefore eliminates, the International Activity emblem and the Youth Exchange emblem. International Spirit Award emblems are $4 each and are purchased from the International Department.
Please visit www.scouting.org/international/applications to see the requirements and apply for this new award.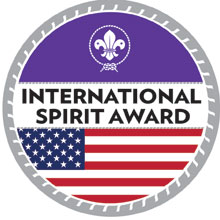 ---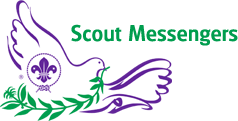 MESSENGERS OF PEACE
Launched in September 2011 and recently adopted by BSA, Messengers of Peace is a global initiative designed to inspire millions of young men and women in more than 220 countries and territories to work toward peace. Using social media, the initiative lets Scouts from around the world share what they've done and inspire fellow Scouts to undertake similar efforts in their own communities. The initiative is inspired by the World Scout Committee, administered by the World Scout Bureau, and driven by youth volunteers worldwide.

Defining Peace
In terms of the MOP initiative, peace encompasses three dimensions:
1.The personal dimension: harmony, justice, and equality
2.The community dimension: peace as opposed to hostility or violent conflict
3.Relationships between humankind and its environment: security, social and economic welfare, and relationship with the environment

Any Scout or Scouter who participates in a project that has had a significant impact on the community in any one of the three dimensions above can qualify as a Messenger of Peace.

Submitting Projects
Submitting MOP-related projects is easy for BSA units. All they need to do is check the Messengers of Peace box when entering a service project through the Journey to Excellence website (www.scouting.org/Awards/JourneyToExcellence). Doing so will add the project to the map on the Messengers of Peace website (http://scoutmessengers.com) and will generate a unit certificate.
Recognition Item
Any Scout or Scouter who participates in a qualifying project is eligible to wear a Messengers of Peace ring patch around the World Crest on his or her uniform. To purchase these ring patches, a unit representative should take the unit certificate to the local Scout shop or council service center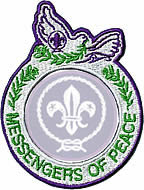 http://www.scouting.org/messengersofpeace.aspx
---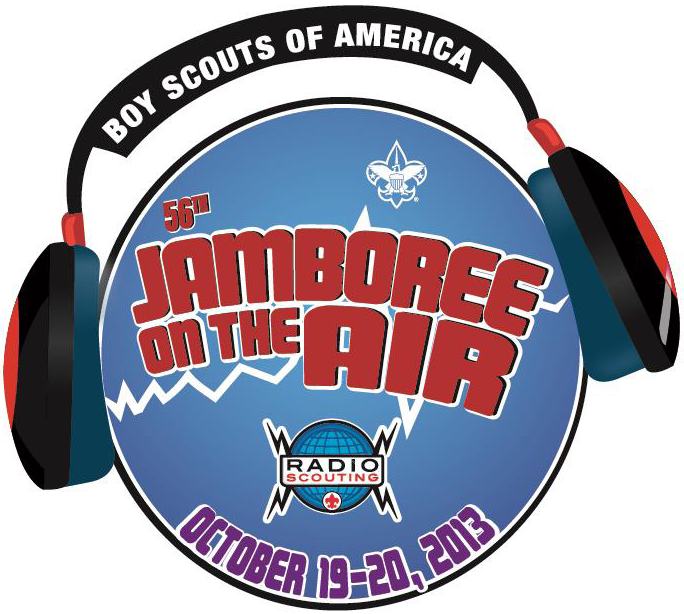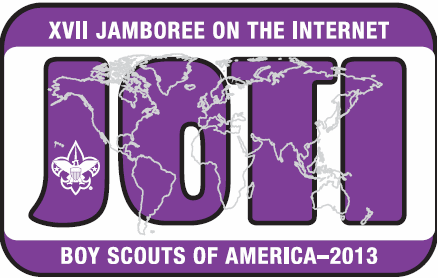 JOTA-JOTI
We are pleased to advise that registration for JOTA-JOTI 2013 will be available from Tuesday 15 October 2013. From that day you will be able to log on to the dynamic new JOTI platform at www.jotajoti2013.org and create your user profiles in order to participate in this year's events.
JOTA-JOTI 2013 forms an integral part the work to overhaul WOSM's entire online presence, including our www.scout.org website, social media and other platforms. Registration for JOTA-JOTI is opening somewhat later than usual this year, in order to keep in sync with the broader project of launching the new WOSM website, which will happen at around the same time. However, as the new JOTI platform will have much greater capacity than its predecessor, there is actually no need for early pre-registrations this year in order to avoid a systems crash over the JOTA-JOTI weekend - as has happened on a number of occasions during previous years.
Jamboree-on-the-Air and Jamboree-on-the-Internet will be held Oct.19 -20, 2013. JOTA and JOTI are annual World Scouting events that provide an opportunity for Scouts to communicate with other Scouts from around the world! Pictured above are the official BSA patch designs for the 56th Jamboreee-on-the-Air and the 17th Jamboree-on-the-Internet.
Last year, JOTA worldwide participation reached just short of 700,000 Scouts operating from more than 13,500 amateur radio stations, operated by 22,500 amateur radio operators across 142 countries, while JOTI had almost 16,000 Scouts and leaders registered in the worldwide JOTA-JOTI database in 146 countries!

Through JOTA, Scouts are introduced to radio technology and to other Scouts around the U.S. and around the world. They get a chance to talk with one another and share information that broadens their perspective on other cultures, on geography, and on the technology and hobby that provides the means for their communication.

Reach out to your local amateur radio clubs and get involved in the largest Scouting event in the world. For more information: www.scouting.org/jota

JOTI invites all youth and organizations that support Scouting to join the Internet revolution. This event utilizes computers and the Internet so thousands of Scout groups can be contacted during the weekend. Computer use is growing exponentially; Jamboree-on-the-Internet is prepared to keep pace with that growth. For more information: www.scouting.org/joti

---
BE PART OF A BSA CONTINGENT
As a member of the World Organization of the Scout Movement, the Boy Scouts of America gets invited to many different international/national events in different countries every year. This is a great opportunity for the BSA to connect with the world through the interaction with local Scouts and Scout leaders at those special events. Consequently, it provides us, our BSA Scouts and adults, an excellent opportunity to learn about other countries, people, and cultures through Scouting activities, plus learn Scouting skills and make new friendships as part of the adventure.

Upcoming events include:
ICELAND INTERNATIONAL JAMBOREE 2014, July 29 - 27, 2014, hosted by The Icelandic Boy and Girl Scout Association. Location: Hamrar, Akureyi, Iceland. Departure date: July 17, 2014. Cost, $2600 per person (includes round trip travel US-Iceland, camp fee, lodging, tour, food, event fee, patches, neckerchief, duffel bag and lots of fun). Nomination deadline is February 1, 2014. Contingent size will be 8 youth (ages 15 - 20) and 2 adults.

15th CARIBBEAN JAMBOREE July 21 - 28, 2014, hosted by Scouting Antiano . Location: Ronde Klip Campsite, Willemstad, Curacao. Departure date: July 20, 2014. Cost, $1600 per person (includes round trip travel US-Curacao, camp fee, lodging, tour, food, event fee, patches, neckerchief, duffel bag and lots of fun). Nomination deadline is February 1, 2014. Contingent size will be 18 youth (ages 15 - 17) and 4 adults. Nomination deadline is February 1, 2014

Youth nomination form: http://scouting.org/filestore/international/pdf/Scout_Nomination_Form.pdf
Adult nomination form: http://scouting.org/filestore/international/pdf/Scout_Leader_Nomination_Form.pdf
---
INTERNATIONAL SCOUTING WEB PASSPORT
# # #
---


For more information on any of the above topics contact Greg Wojcicki via email international118@scouting.org